The CAIJ will be present at the 2021 Annual Convention of the Young Bar of Montreal!
03/05/2021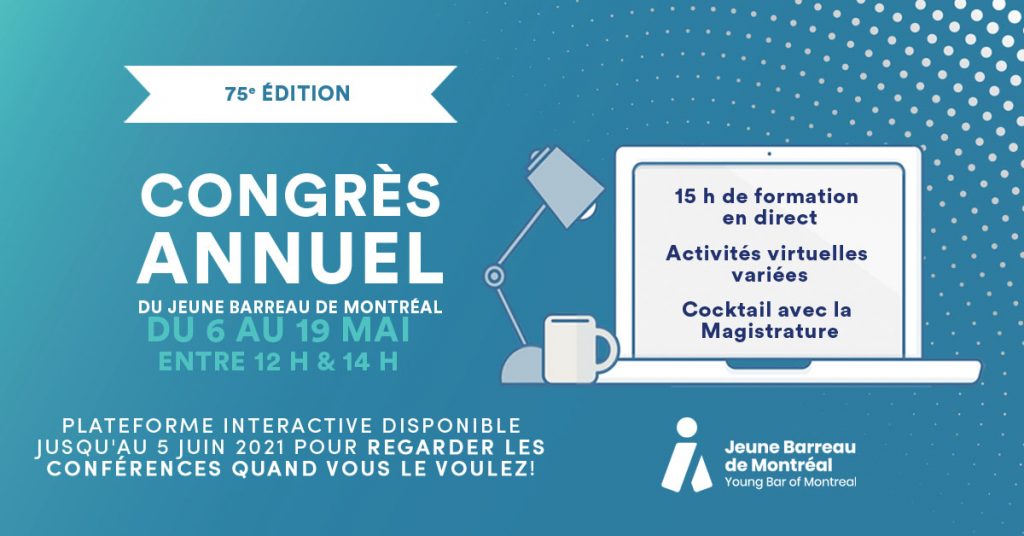 The CAIJ will be present at the 75th annual conference of the Young Bar Association of Montreal. This year, due to the pandemic, the content will be presented virtually.
The CAIJ will offer three activities: 
Special feature on housing law, May 12, from 1:45 to 2:15 p.m.
New Tools and Content in Criminal and Penal Law, May 13, from 1:45 to 2:15 p.m.
Research File - Organizing Your Practice, May 18, from 1:45 - 2:15 p.m.

And on the agenda, May 6-19:
Live and pre-recorded lectures
Interactive virtual activities
Access to the Cocktail with the Judiciary, May 6, from 6:00 to 8:00 p.m.
Access to the Spring 6@8, May 19, from 6 p.m. to 7 p.m.
An interactive platform available until June 5, which allows you to :

Watch the conferences at any time
Consult the speakers' and participants' profiles
Interact in writing or on video with other participants
Visit the exhibitors and interact with them in real time
Ask your questions and discuss via games during the conferences
______________________________________________________________________
Le CAIJ, votre courtier en information juridique.